DIAL A RIDE AND TOWN RIDER SERVICES ARE OPERATING SERVICES FOR ESSENTIAL JOURNEYS ONLY – SO IF YOU NEED TO GET TO THE SHOPS OR ATTEND AN APPOINTMENT AND NEED HELP WITH YOUR TRANSPORT PLEASE GET IN TOUCH.
A variety of services are offered using our fleet of minibuses. Dial-a-Ride services and minibus hire.
Our Buses
The PRTA run a number of services with its fleet of Green Dragon buses.
Known locally as Green Dragon Bus.
Dial-a-ride services are described in detail on the appropriate Dial-a-Ride page. Many community groups use the buses for bespoke group outings – for details on this see our Group Use page.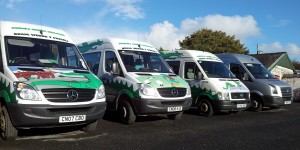 Our fleet:
Mercedes Sprinter – 15 seater, PLEASE NOTE this vehicle currently does not have a lift
Mercedes Sprinter – 12 seater, fully accessible
Renault Master – automatic – 11 seater, fully accessible (based in Cardigan)
Renault Master – 12 seater – fully accessible (based in Narberth)
Renault Master – 12 seater – fully accessible
Invalid Displayed Gallery