A variety of services are offered using our fleet of minibuses. Dial-a-Ride services and minibus hire.
Our Buses
The PRTA run a number of services with its fleet of Green Dragon buses.
Dial-a-ride services are described in detail on our Dial-a-Ride page.  Many community groups use the buses for getting out and about; for details on this see our Group Use page.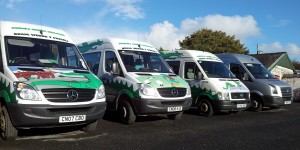 Our fleet:
Mercedes Sprinter – 15 seater, fully accessible
Mercedes Sprinter – 12 seater, fully accessible
Renault Master – 11 seater, fully accessible
Volkswagen – 15 seater standard minibus which has been to run on vegetable oil by "Veg Oil Motoring".  (Please note it also uses diesel)
The Green Dragon made a personal visit to Sigma in Goodwick to see how they were getting on with the bus (Sigma is now based in Haverforwest). Here are the lads at Sigma finishing the back of GDIII. They also did some cut outs so that the Green Dragon would not be alone!